Your all-access ticket to an exclusive, truly memorable weekend, jam-packed with extraordinary Wright-centered activities. The 3-night package includes:
Private Passage: Wright in Nature – an exclusive-access day tour
Fast Pass (priority entry) to the all-day Wright Plus Housewalk
Private luncheon at Oak Park's historic Nineteenth Century Club
Exclusively Wright Dinners
Deluxe hotel accommodations at the historic Carleton of Oak Park
Transportation to and from all events
 
ULTIMATE PLUS WEEKEND PACKAGE TICKETS
$2,675 | $2,525 Trust Member
Pricing is based on double occupancy. An additional $350 is added for single occupancy.
Tickets are sold out. Contact development@flwright.org to join a waiting list.
Become a member now to take advantage of discounted rates.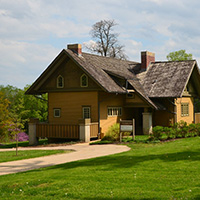 Private Passage: Wright in Nature
Friday, May 19, 8 am to 6 pm
Throughout the 1800s, the Fox River Valley, west of Chicago, experienced a population boom as farm communities blossomed along the prairie. Early settlers and wealthy Chicagoans were drawn to the area seeking the peace and serenity of a rural getaway from the rapidly industrializing city.
Colonel George and Nelle Fabyan's intense appreciation for Japanese culture is clearly seen in Wright's 1907 comprehensive remodeling of their original home. Explore the Prairie style residence, brimming with the Fabyans' private collection of Asian artifacts, natural history specimens, original furniture, and more. Afterwards, experience a rejuvenating and uplifting experience where harmony and nature co-exist with tranquil designs in the 1910 Japanese Garden, designed by famed landscape architect Taro Otsuka.
Enjoy a delicious lunch in picturesque downtown Geneva, before continuing your journey to the Muirhead Farmhouse. Tour Wright's only known farmhouse designed in the Usonian style of architecture. The award-winning restoration won the site a place on the National Register of Historic Places in 2016 and features 1,011 acres of farmland with a 4-mile limestone trail loop filled with native prairie wildflowers and grasses.
Excursion includes light snacks, lunch and transportation. Ultimate Plus Exclusive.
*** The Friday Excursion is a full-day tour with multiple walking experiences. We encourage guests to dress in weather-appropriate clothing and wear comfortable walking shoes. The sites are not wheelchair accessible. Water bottles will be offered on the bus.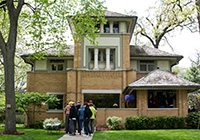 Wright Plus Housewalk and Luncheon
Saturday, May 20, 9 am to 4 pm
With your Fast Pass, walk right into each Wright Plus home with the next available tour group. Enjoy a private luncheon at the historic Nineteenth Century Club.
Exclusively Wright Dinners℠
Saturday, May 20, 6:30 to 10:30 pm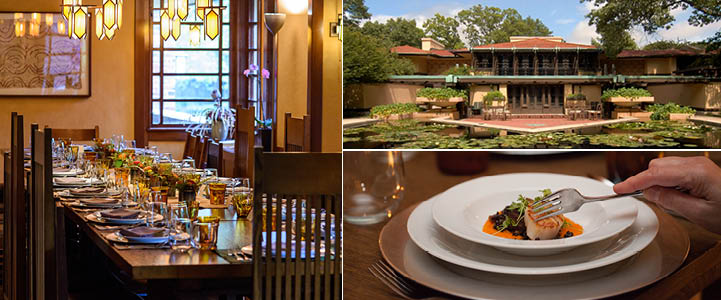 Join current owners in their Frank Lloyd Wright home and enjoy an exquisite dining experience prepared by an acclaimed chef. The evening will include a private tour and cocktails, in addition to a gourmet dinner. Experience moments of glamour as you encounter a living space as a work of art.
Avery Coonley House (Frank Lloyd Wright, 1908), Riverside, IL
The vast financial resources of heiress Queene Ferry Coonley and her husband Avery, combined with Wright's creativity, resulted in one of the most impressive residential designs of Wright's career. The Coonley estate was a sprawling complex made up of a house, stable, and gardener's cottage, situated around a central courtyard. Today, the meticulously restored home shows the qualities of a mature Prairie residence, including Roman brick walls, built-in shelving, and abundant leaded glass, 80% of which is original.
Peter A. and Emma S. Beachy House (Frank Lloyd Wright, 1906), Oak Park, IL
Frank Lloyd Wright designed this home for heiress Emma Susan Beachy and her husband, Peter. The home couples a mature Prairie style interior with an atypical exterior. The open interior plan, massive fireplaces, extensive wood trim and built-in cabinetry are integral Prairie features. Most of the unique dining suite—individual light fixtures grouped according to preference along a fixed base, three tables, and low-backed and high-backed chairs—is original to the house.
Chef Gale Gand
James Beard Award-winning pastry chef, Food Network television host and Frank Lloyd Wright fan Gale Gand will prepare the exquisite dinner. Truly a star chef, Gale has been inducted to the Chicago Chefs Hall of Fame, authored eight cook books and teaches cooking classes all over the country. She is co-owner of the Chicago restaurants Spritz Burger and the Michelin-starred, Tru.
Chef Melissa Elsmo
Melissa Elsmo makes you believe you can enjoy every meal just as she does – fully and enthusiastically. A trained chef and ardent foodie, Mel's passion for a good meal peppers her life. As part of Chicago's underground supper club scene, she creates intimate multi-course dining experiences featuring her own recipes and artful approach to plating. Guests wait months for a seat around her table, but savvy food lovers can often locate her at pop-up events around the city. In her above ground life she is a devoted food writer, passionate volunteer and longtime Oak Park resident.
Gourmet Breakfast
Sunday, May 21
Enjoy a gourmet breakfast at the hotel. 
---
Please note that most venues on Ultimate Plus are private residences that are not physically accessible. Program subject to change due to unavoidable circumstances. Ultimate Plus tickets are non-refundable.
Proceeds support the education, restoration and preservation programs of the Frank Lloyd Wright Trust.
Questions about Ultimate Plus? Contact info@flwright.org.