Your all-access ticket to an exclusive, truly memorable weekend, jam-packed with extraordinary Wright-centered activities. The 3-night package includes:
Private Passage: Jewels of Chicago and the North Shore – an exclusive-access day tour
Fast Pass (priority entry) to the all-day Wright Plus Housewalk
Private luncheon at Oak Park's historic Nineteenth Century Club
Exclusively Wright Dinners
Deluxe hotel accommodations
Transportation to and from all events
 
ULTIMATE PLUS WEEKEND PACKAGE TICKETS
$2,675 | $2,525 Frank Lloyd Wright Trust Member, double occupancy
Single Supplement: $350
Tickets are SOLD OUT. Contact info@flwright.org to join a waiting list.
Become a member now to take advantage of discounted rates.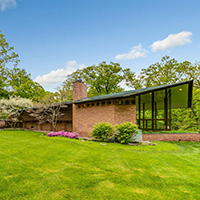 Private Passage: Jewels of Chicago and the North Shore
Friday, May 20, 8 am to 6 pm
Our Friday excursion begins with a visit to the Wright-designed Charles Glore Jr. House (1954) in Lake Forest, Illinois, a breathtaking example of his organic architecture. Only a block from the shores of Lake Michigan, the home features soaring walls of glass, exposed brick, rich mahogany paneling, and a floating staircase. The Glore House was one of the final private homes designed by Wright.
From the Glore House we will travel down historic Sheridan Road through the impressive North Shore suburbs of Chicago, enjoying views of country estates and prestigious university buildings. Following lunch, we will journey to Chicago's famed Graceland Cemetery. This picturesque cemetery features significant tombs and mausoleums-including two designed by architect Louis Sullivan. A tour guide will lead us past the final resting places of architectural giants Daniel Burnham, John Root and others; as well as some of Chicago's most prevalent business and society leaders like Marshall Field and Edith Rockefeller McCormick.
Includes breakfast, lunch and transportation. Ultimate Plus Exclusive.
Wright Plus Housewalk and Luncheon
Saturday, May 21, 9 am to 5 pm
With your Fast Pass, walk right into each Wright Plus home with the next available tour group. Enjoy a private luncheon at the historic Nineteenth Century Club.
Exclusively Wright Dinners℠
Saturday, May 21, 6:30 to 10:30 pm
Join current owners in their Frank Lloyd Wright home and enjoy an exquisite dining experience prepared by an acclaimed chef. The evening will include a private tour and cocktails, in addition to a gourmet dinner. Experience moments of glamour as you encounter a living space as a work of art.
Click here to read more about the featured dinner venues and chefs

Avery Coonley House (Frank Lloyd Wright, 1908), Riverside, IL
The vast financial resources of heiress Queene Ferry Coonley and her husband Avery, combined with Wright's creativity, resulted in one of the most impressive residential designs of Wright's career. The Coonley estate was a sprawling complex made up of a house, stable, and gardener's cottage, situated around a central courtyard. Today, the meticulously restored home shows the qualities of a mature Prairie residence, including Roman brick walls, built-in shelving, and abundant leaded glass, 80% of which is original.

Rollin Furbeck House (Frank Lloyd Wright, 1897), Oak Park, IL
The Furbeck House dates from the early days of Wright's independent practice, combining a vertical element with the features of his later Prairie designs. This was a highly experimental period, during which Wright was already exploring the interplay of geometric shapes and horizontal elements. The living and dining rooms boast picture windows, and the dining room was later enlarged to include the back porch of the home. A true delight of Wright's earlier work.

Arthur B. Heurtley House (Frank Lloyd Wright, 1902), Oak Park, IL
Widely acknowledged as a masterpiece – also a National Historic Landmark -- the Arthur B. Heurtley House was designed for Wright's neighbor. At the heart of the home, a substantial arched fireplace occupies a central position in the living room, echoing the prominent arch on the exterior of the building. Leaded glass windows flood the main living spaces with light. An open-air elevated porch, accessed via French doors in the living room, blurs the division between interior and exterior space. The Heurtley House represents Wright's classic Prairie style in full bloom, an unforgettable setting for a dining experience.

Chef Gale Gand
James Beard Award-winning pastry chef, Food Network television host and Frank Lloyd Wright fan Gale Gand will prepare the exquisite dinner. Truly a star chef, Gale has been inducted to the Chicago Chefs Hall of Fame, authored eight cook books and teaches cooking classes all over the country. She is co-owner of the Chicago restaurants Spritz Burger and the Michelin-starred, Tru.

 

Chef Melissa Elsmo
Melissa Elsmo makes you believe you can enjoy every meal just as she does – fully and enthusiastically. A trained chef and ardent foodie, Mel's passion for a good meal peppers her life. As part of Chicago's underground supper club scene, she creates intimate multi-course dining experiences featuring her own recipes and artful approach to plating. Guests wait months for a seat around her table, but savvy food lovers can often locate her at pop-up events around the city. In her above ground life she is a devoted food writer, passionate volunteer and longtime Oak Park resident.

 

Chef Oscar Cortés
Oscar Cortés is a motivated chef and experienced business owner who provides excellence and high-quality service. With 30 years of food industry experience, Oscar believes that cooking is an art, and with art, comes passion. Food is his love language, and Oscar ensures that the food he serves is whole, pure, and cooked with respect and care for people to find nourishment in and enjoy. He is Executive Chef at Cortés Catering, Inc., and has been using the finest ingredients to create inspired ethnic fusions and fine cuisine for the past 19 years.

 
Breakfast and Airport Transfer
Sunday, May 22
Enjoy breakfast at the hotel. Your transportation to O'Hare Airport is arranged by us.
---
Please note that most venues on Ultimate Plus are private residences that are not physically accessible. Program subject to change due to unavoidable circumstances. Ultimate Plus tickets are non-refundable.
Proceeds support the education, restoration and preservation programs of the Frank Lloyd Wright Trust.
Questions about Ultimate Plus? Contact info@flwright.org.
Photographs: Glore House by Palo Dobrik