Frank Lloyd Wright Home and Studio Learning Center
INSPIRING THE ARCHITECTS OF TOMORROW
Image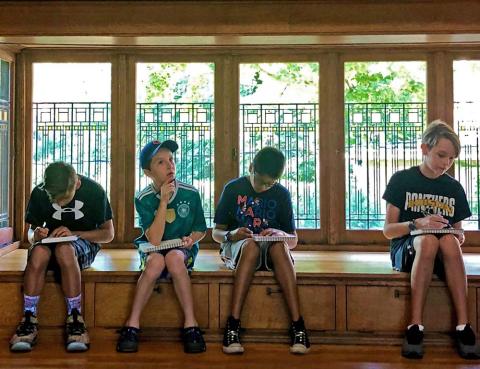 Oak Park is best known for its unsurpassed concentration of Frank Lloyd Wright buildings and for the place where they were created – the Architect's Studio.
The Frank Lloyd Wright Trust's Learning Center expansion will focus on creating a comprehensive environment for lifelong learning that welcomes local and area residents into the site for expanded educational programs.
The Learning Center project comprises a 25,000 sq. ft. campus site, east and adjacent of the Home and Studio, which includes:
- 925 Chicago Avenue Arts and Education Center (a refurbished historical building)
- 931 Chicago Avenue Trust Administration Center (a refurbished historic building)
- Studio Pavilion (an approximately 5,000 square ft. new building)
925 Chicago Avenue will be converted from a private residence to a public use building. 931 Chicago Avenue will remain a private building utilized for Trust administration. The Studio Pavilion will be new construction, an approximately 5,000 sq. ft. building.
The entire 25,000 sq. ft. expansion site owned by the Trust and located east of the Home and Studio, will be utilized with outdoor landscaped walkways, two historic buildings, and a new building.
Arts and Education Center
925 Chicago Ave. will become the Trust's Arts and Education Center comprising a Frank Lloyd Wright Library Reading Room, a design archives, an open-air studio in the landscaped backyard, and a work center for Trust educators. Mary Brush FAIA will direct the rehabilitation working with her practice Brush Architects LLC.
Trust Administration Center
The 931 Chicago Ave. historic house built by John Blair and later owned by Anna Lloyd Wright, will remain an administrative center for Trust operations. Refurbishment will include a new wood shingle roof and repainting. Mary Brush and Brush Architects will oversee this work.
Studio Pavilion
A new Studio Pavilion, designed by John Ronan Architects, will include a reception hall, pavilion for programs and events, and a studio for hands-on arts and design classes.
Image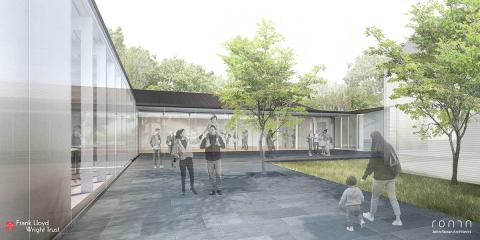 The Studio Pavilion is an L-shaped building clad in oxidized zinc, clear glass and sandblasted glass with entry walkways of slate. Maximum program capacity in the pavilion is 100 persons.
With new on-site program space, Trust education and enrichment programs for young people and adults will increase. An Oak Park donor has created a $100,000 Equity Scholarship Fund to ensure equal access to every child who wishes to participate in studio classes. The Trust's popular Summer Youth Camps will expand camp offerings and extend their duration. Home and Studio tours for 4th graders from District 97 will expand to include River Forest 4th graders. On-site studio workshops will also enhance the 4th grade program. In addition to building on existing programs, new programs will be announced at a later date.
A community education advisory committee is working with Trust educators.
Learning Center Education Advisory Committee:
Latonia Baker, Executive Director, Oak Park Education Foundation
Maya Bird-Murphy, Mobile Makers, Oak Park
Ed Condon Ph.D., Superintendent, River Forest School District 90
Pablo Garcia, Faculty, School of the Art institute and Trust Board Member
Jill Goldstein, Former Executive Director, Oak Park Art League
Marcie Gutierrez, 3rd grade teacher, John Hay Community Academy, CPS Austin
Tawanda Lawrence, Senior Director of Curriculum, Instruction and Assessment, Oak Park Elementary School District 97
Linda Novotny, Chairman, Arts Department, Oak Park River Forest High School
Josephine Sarvis, Director, Teacher Education Program, School of Education, Dominican University
Holly Spurlock, Board Member, Oak Park Elementary School District 97
Tracy Van Duinen, Art Teacher, Oak Park River Forest High School
Brenda Watkins, Assistant to the President, Triton College
Val White, Art Teacher, Oak Park River Forest High School
Sarah Williams, 4th grade teacher, Oliver Wendell Holmes Elementary School
Project Design Architect John Ronan, FAIA
John Ronan, FAIA is founding principal and lead designer of John Ronan Architects in Chicago. John holds a Master of Architecture degree with distinction from the Harvard University Graduate School of Design and a B.S. degree from the University of Michigan. His work has been exhibited internationally and extensively covered by the design press. He has lectured widely, and his work has appeared in books, architecture journals, and Poetry magazine. John Ronan Architects has garnered numerous national and international design awards, including three AIA National Architecture Awards. In 2017, John received the American Academy of Arts and Letters Architecture Award. He has been visiting chair at numerous universities and is currently the John and Jeanne Rowe Endowed Chair Professor of Architecture at the Illinois Institute of Technology College of Architecture, where he has taught since 1992.
Project Preservation Architect Mary Brush, FAIA
Mary Brush, FAIA, is preservation architect at the Trust. She holds an M.S. degree in Historic Preservation from the University of Pennsylvania and an M.A. in Architecture from the University of Illinois, Chicago. Prior to establishing her own practice, Brush Architects, LLC, she worked as preservation director at Thornton Tomasetti, Klein & Hoffman, and Holabird & Root. She is a Richard Morris Hunt fellowship laureate with 20 years of experience in preservation architecture. Mary's work has received national awards for excellence in historic restoration.
Image